I posted this on the HAMB, originally, and they suggested that I post it here.
I have my great-grandparents' 41 Merc sedan that I'm working on getting running again. I've run into two issues, one of which is my own doing.
First, the problem of my own making: When I pulled the radiator to swap the motor (the original was stuck and needs rebuilt, so I've got a '40 Ford motor in until I get time to do that), I was terrible at bolt management and don't remember what held the side braces in. Are those just regular bolts that stick out and have a washer to keep them in the slot?
Second, the trunk latch slips when the handle is turned, so the latch isn't retracted. I've confirmed that the latch is loose, though a little stiff. In looking at how to take it out, I see there's about a 2-inch nut that backs the handle and two screws on the bottom to hold the latch in position (either side of the latch in this image, just out of frame):
two small flat head screws on the inside of the door: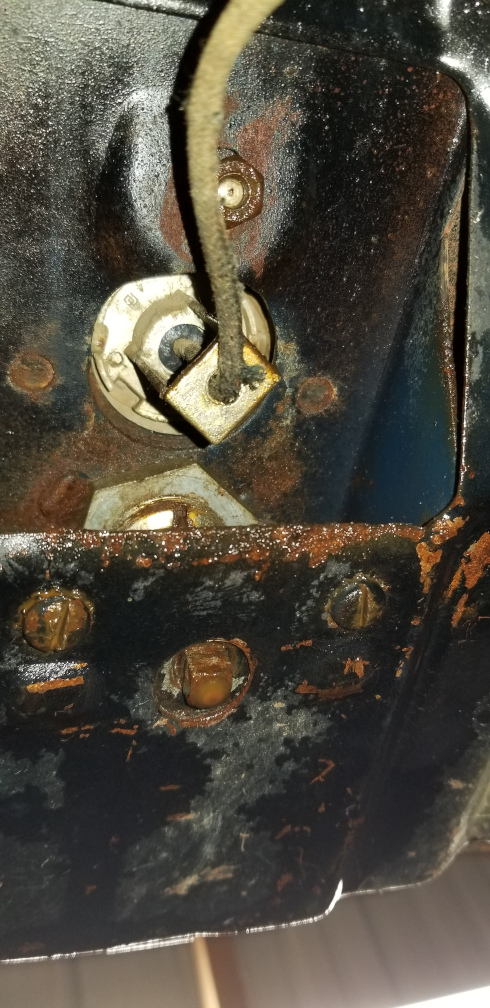 I can get the screws out, but I don't see how there's enough space to get that size of box wrench in to loosen it. Is there a special wrench needed to be made to fit in that space and loosen the nut, or is there a trick to just holding the nut and starting to spin off the handle from the outside?